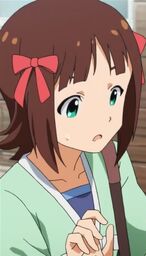 Bolahard is an enemy that appears in nearly every single game in the Mikakunin de Shinkokei series. Bolahards are sentient creatures who resemble faces of Haruka Amami from the anime Idolm@ster, reddish-brown hair and green eyes, 2 feet, in some games it almost resembled Hammer Mashiro's hair ribbons. Bolahards are very slow at all. She wield the stake-pounding Copy ability Stone.
Physical Appearance
Edit
Bolahard is a creature with reddish brown hair with red ribbons, green eyes and yellow feet respectively.
She first appears in the Stage 2 of Raspberry Temple, until shown on level 1 instead to her copy abilities.
Ad blocker interference detected!
Wikia is a free-to-use site that makes money from advertising. We have a modified experience for viewers using ad blockers

Wikia is not accessible if you've made further modifications. Remove the custom ad blocker rule(s) and the page will load as expected.