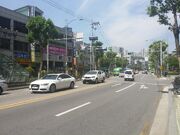 Bolindon is an ugly district from Sadang-dong, Dongjak District of Seoul, regarding on South Korea. Bolindon is derived from the Spanish word bola, meaning a ball because the district become a round ball when Konoha showed up. Kobeni and Niko confronted Namseong Station outside until an Exit 3 is expired, get out from an Exit 4 instead to her. Bolindon, which is looks like a ball from Sadangsam-dong because the city rolled up like a ball instead to be.
KFC Sadangsam-dong Branch
Ad blocker interference detected!
Wikia is a free-to-use site that makes money from advertising. We have a modified experience for viewers using ad blockers

Wikia is not accessible if you've made further modifications. Remove the custom ad blocker rule(s) and the page will load as expected.