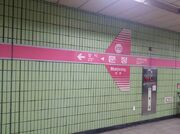 Munjeong Station, one of an SMRT line no. 8 subway in Songpadaero of Seoul, probably at South Korea.
Construction
Edit
November 23, 1996 - Operating at an SMRT Corporation line no. 8
January 8, 2016 - Operating Escalators on Exit 2
Structures
Edit
A platform contains to an opposite that is controlled, with Safety Doors on each edges. It has 4 exits.
Platforms
Edit
Upper Direction
SMRT line 8
To Seokchon · Jamsil · Cheonho · Amsa
Lower Direction
To Jangji · Bokjeong · Dandaeogeori · Moran
Around the Station
Edit
Holly's Coffee Monjeong Rodeo Branch
Lotteria Mungjeong Rodeo Branch
Pizza School Munjeong Branch
Seoul Munjeong Elementary School
Seoul Munjeong Middle School
Sinhan Bank Munjeong Rodeo Branch