Sagajeong Station is a SMRT Line 7 from Sagajeongno, Jungnang-gu, Seoul Special City. Its name means to be 4 beautiful pavilions or just Sagajeong Street, depending on the subway.
StructureEdit
This platform is an opposite platform, with 2-faces and the 2-lines respectively.
PlatformsEdit
Upper Line To Sangbong, Taereung, Dobongsan and Jangam
Lower Line To Gunja, Express Bus Terminal, Cheonwang and a Bupyeong District Office
Around in the mostEdit
Baskin' Robbins
Pizza Maru
KFC (Which is the owner, Konoha)
Myeonmok chil-dong Community Center
Kimbap Lover
Mom's touch Myeonmok Store
Rodeo Motel
GalleriesEdit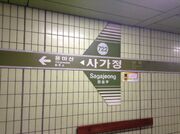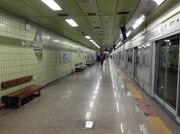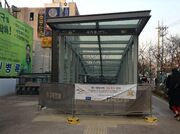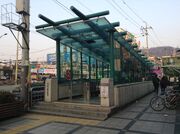 Ad blocker interference detected!
Wikia is a free-to-use site that makes money from advertising. We have a modified experience for viewers using ad blockers

Wikia is not accessible if you've made further modifications. Remove the custom ad blocker rule(s) and the page will load as expected.