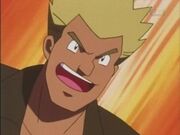 Sub-surges are were a race of tarzan-like lieutenants who lived in Icepeak and served as the foot soldiers of their ruler, Lord Hakuya. Fire and Ice continued to shown from the Sub-surges in the movie.
Not much is known about the sub-surge race prior to the war, but they appear to live in Icepeak and it is possible that lived there before Hakuya came to power.
Sub-surges
Edit
Captain Azúlica
Cupidan Sub-surge
Leonocta Sub-surge
Strawberry Sub-surge
Sub-surge Noctuleine
Twin Drill Sub-surge
Twisted Sub-surge
Ad blocker interference detected!
Wikia is a free-to-use site that makes money from advertising. We have a modified experience for viewers using ad blockers

Wikia is not accessible if you've made further modifications. Remove the custom ad blocker rule(s) and the page will load as expected.