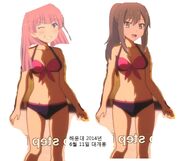 Tidal Wave is a 2014 South Korean film. Billed as South Korea's first disaster film, Haeundae is directed by Cherry Arai and stars Haruka Terui, Risa Taneda, Yuka Tokumitsu, Rie Kugimiya and Saki Fujita.
Located in the southeastern tip of the Korean Peninsula, Haeundae-gu of Busan Metropolitan City. This time, Benio needs to finding Mashiro instead, trapping into an elevator, when the earthquake continued on Busan metropolitan city from 1 minute. However, they got panicked, until that moment, Kobeni was worried about Konoha and Niko where the tsunami obliterated a Haeundae Beach instead, which defeated a tallest hotel. Hotel become soaked, where Benio Yonomori may trapped until the water become fallen, which worried about Hakuya was. Konoha and Niko ran off tsunami, also worrying Kobeni where she wounded on her arms. Mashiro can't swim until Hakuya had rescuing up. Snooter Man, who frees Benio from elevator, which water become falling out. When an obstacle punches Kobeni, Konoha and Niko got sad in their stories, before that Kobeni's shoe is floating away.
External Links
Edit
[[1]]
Ad blocker interference detected!
Wikia is a free-to-use site that makes money from advertising. We have a modified experience for viewers using ad blockers

Wikia is not accessible if you've made further modifications. Remove the custom ad blocker rule(s) and the page will load as expected.